A natural in the garden since 1929.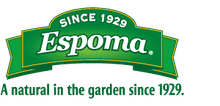 The Espoma Company began production in 1929 with its first product called Espoma Organic. The product was a proprietary blend of natural materials available near the company's location in Millville, NJ. These ingredients were blended and bagged using shovels, wheelbarrows, scales and the sweat of employees' backs. With product in hand founder H.G. Sanders set out on the road selling in the New York, Philadelphia, and Washington D.C. markets.
Yard & Garden Products:
Product Lines: Garden Fertilizers, Potting Soils, Lawn Fertilizers, Plant Protection, Liquid Fertilizers, Single Ingredients, Synthetic Fertilizers, Animal Care
Come visit our pet supply store in Granby, CT specializing in quality food, treats, and supplies for all animals.